For those that haven't noticed, the age of the millennial is already here. Millennials are no longer the new kids, with 40% of millennials already having kids of their own. According to Boston Consulting Group, the millennial audience accounts for around 34% of travel spending today, but expects that number to jump up to over half of revenue by 2025. Millennials may not yet form the largest segment of your hotel's revenue, but they will soon.
Generation Y travels more than their parents and will spend a higher amount per day than previous generations. These dollars come with expectations for superior service and a more engaging consumer experience – today's millennial wants your hotel to treat them like a human and give them more avenues to interact with your brand beyond a website and a 1-800 number, with 74% of millennials accessing internet from their phones.
If you have not started to consider how to kick off your relationship, or simply have not figured out how to communicate with the fastest growing revenue segment for the hospitality industry, quite simply, you are behind. Let's get you up to speed.
"I Want To Get Away…"
Millennials are traveling near and far. About 70% of millennials want to visit every continent compared to 48% in other generations.
Even for those that cannot get away, a third of millennials reported taking a Staycation in the last year, booking a hotel within fifty miles of home, just to get away.
Its not just single millennials that are traveling. For millennials with kids of their own, travel is still a priority. Millennials with kids averaged 2.6 trips per year, compared to 2.2 trips per year for Generation X.
Millennials without kids are traveling, too. HVS, a consulting firm that specializes in providing services to the hospitality industry, noted that 58% of millennials were traveling with friends, as opposed to 38% for previous generations. Capturing the loyalty of one person gives you access to their friends.
"Have You Been There Before?"
In 1994, a millennial watching the Today Show would have had a chance to find out what this whole internet thing was all about.
Since then, social media has built itself from nothing to brands spending over $17.74 billion on advertising on Facebook, Twitter, Instagram and Pintrest. That number is expected to increase by over 33% in 2015.
Today, millennials trust word of mouth above any other form of marketing when they are making decisions about big-ticket items, like travel. Two thirds of millennials say they have to talk to someone they trust before they are ready to move on a major purchase like travel. Millennial travelers will check 10.2 sources before booking their vacation with 23% saying that social media advertising heavily impacts their decision on where to book, compared to just 7% for Gen X, 4% for Gen Y and 2% for the Mature audiences.
Last year, MMGY surveyed the 'Digital Elite' and found that they took 4.8 vacations per year, compared to 3.8 for the non-Digital Elite. Who are the Digital Elite? Seven out of ten are millennials according to the study.
If you want to impact the buying decision, build a relationship with the consumer before they are looking to book. Focus on providing an engaging user experience on social and activate your best customers to create organic content that will let their friends know about the great experience they have had with your hotels. With millennials trusting word of mouth above all other forms of marketing when booking travel, driving hotel bookings starts with the customers you have today.
"What Did You Use?"
So you got their attention, your Generation Y'er went on Instagram, found a picture your brand posted of your beach in Nevis – or better yet, that their best friend posted on their trip to Nevis – now they are hooked and are ready to book.
How does a millennial book a trip? First they are going to ask a friend. Two-thirds of millennials will not make a major decision, like travel, until they have talked to a friend they trust. Where does a millennial book a trip? Online. According to Virtuoso, 90% of millennials will book their hotel on the internet. How long will it take for them to decide? Faster than their parents, with a booking window of around 75 days for millennials as opposed to 93 days for other generations.
This makes sense. More and more, all generations are looking to online sites to aggregate prices and find the best deal for their hotel with guarantees on price, like the Best Price Guarantee from Expedia to encourage faster, low risk booking. The choices are expanding with online sites like Kayak and Airbnb or apps like Hotels Tonight catering to the unique experience every millennial wants with the service they expect. Advertising on Kayak won't help – 67% of millennials do not trust sponsored or paid content.
What's the best way to reach our millennial audience when they are booking? Build the relationship before they even know they want to take that trip to Nevis.
"I Need To Post This."
Your millennial checked their phone 43 times yesterday. The rise of Facebook, Instagram and other picture-rich social channels have increased the value of capturing a unique experience and sharing that experience with friends and family on the internet. As a result, MMGY estimates that 6/10 millennials value an experience over a material thing. This is important in the way that we engage this audience – our job becomes creating content and choosing distribution avenues that promote the idea of an exclusive and shareable experience.
Once the trip is booked, 6/10 millennials do not want to feel like a tourist. Hospitality providers like Airbnb and Home Away have thrived because the Generation Y audience craves an authentic experience from their travels. This means that the content and distribution needs to be equally authentic.
Your millennial customers will do this job for you if you enable them to advocate for your brand. Forbes notes that 40% of your audience will post content to social while still on vacation, while 34% will post content to social once they get back. Providing a unique experience to the traveler and then empowering them to share authentic, organic content to their friends will always be the best way to reach the social media generation.
Generation Y is the FOMO generation. While checking your phone 43 times might lead to missing out on the moment, it provides an opportunity for the savvy hotel to capture the attention of the target with authentic content from their best and most satisfied customers.
"We Definitely Need To Come Back Here!"
When we try old tricks with new demographics and it doesn't work, it's not time to blame the new demographic. Traditional loyalty platforms have struggled to access millennials and have suggested that Generation Y simply is not loyal, but this is simply is not true. According to Boston Consulting Group, millennials are three times more likely to claim brand loyalty, unless you happen to be an airline.
Three quarters of millennials said that they would stick with a loyalty program, even if they lost all their rewards and would actually spend more money to stay at a hotel where they were a member of a loyalty program.
The problem is not that millennials are not loyal, the problem is that brands are not finding ways to create brand loyalty in the new generation. Millennials demand better service, unique experiences and more personal interaction before they will declare loyalty for a brand. This requires multiple points of interaction on social.
Millennials believe that rewards for loyalty should be smaller, but more readily accessible with a reward coming within the first three months. Instead of linking loyalty directly to staying at the hotel, experiment with new methods to reach your audience through your most loyal consumers, rewarding them with upgrades and room credit when they share authentic content on social. Loyalty no longer needs to be limited to points programs that reward the consumer for staying with you, but can be inexpensively expanded to provide more value to the consumer with more frequent rewards, while driving authentic content to communicate the unique experience your hotel offers to their friends, who will be looking to them when they are ready to make a decision on where to travel.
You can win the loyalty game with Generation Y, but it is going to take a new approach than you were able to use with their parents.You can win by  focusing on smaller and more frequent rewards tied to organic content.
What Now?
Q1 of 2015 saw TV subscribers contract by 0.5%. Newspaper revenues have declined from $65.8 billion in 2000 to $17.3 billion in 2013. Hotels traditional marketing mechanisms to reach and convert loyal customers has moved past tradition mediums and into the social sphere. To reach the millennial audience that is cutting the cable cord, putting down the newspaper and picking up a smartphone, we have to get smarter about engaging our audience on social media.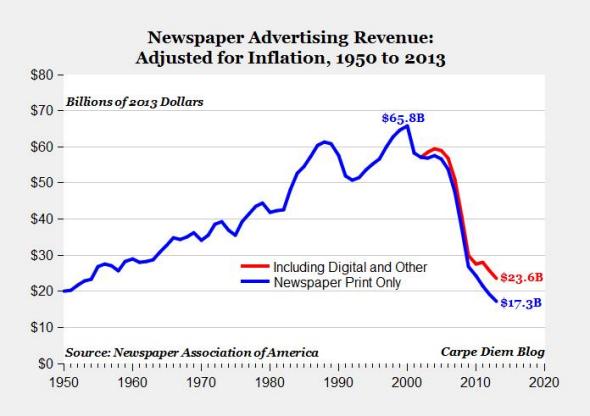 The answer cannot be to simply run the same content you ran on cable on Youtube, or take the content from the New York Times and post it on Instagram. Millennials crave engagement, superior service, unique experiences and they do not trust your ads.
Taking a multi-faceted approach that focuses on engaging the customer on multiple social channels and providing many points of access to a brand is the best way to convert the millennial. Content should be engaging, responsive to mobile, and respect the differences in different social channels. Using organic content from consumers to make them feel more engaged and make your message more authentic will be key to winning Generation Y.
Would you like to start influence marketing for your own brand? Download our guide and learn how today!
In a continuing effort to help brands and businesses both understand and leverage the value of their influencers, we will feature more industry-specific posts like this one. Today's insights were provided by David Hollady, Mavrck's account executive whose background involves data security and is currently a law student.
Sources:
eMarketer, PR Newswire, Hotel News Now, Hospitality Technology, Travel Pulse, AdAge, Forbes, Forbes, Inc., BCG, Perspectives, HotelREZ, Slate