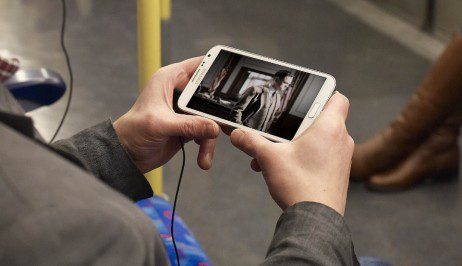 Sharing branded content is a powerful way to drive impressions. Having influencers share branded content is a powerful way to drive conversions. When you decide what type of content to create, you might think of photos, blog posts, or discount codes. But, do you think of video?
If not, you should start. Video is quickly becoming one of the most important types of online content. You might be creating branded video for your website, your blog, or your YouTube channel, but are you activating influencers to share video content across their personal networks?
1. Video is on the Rise
When consumers scroll down their social media feeds 17% of the content is video clips. 89 million people in the U.S. are going to watch 1.2 billon online videos today and online video users are expected to double to 1.5 billion in 2016.
As of now, only about 24% of national brands are using online video to market to consumers. So your brand has the opportunity to be a leader and incorporate video in your influence marketing tactics.
2. Influencer Video Gets Past Ad Blockers
Although some brands are using online video in their marketing, many are paying for YouTube ads. They justify costly spending because they believe these ads are able to target certain niches and demographics. In reality, many of these video ads are reaching no one at all.
The pool of people who accept ads is smaller and smaller and 150 million Internet users are using ad blockers to shut out your advertisements. The amount of ad blocker users has risen 43% from last year.
Ad blocker usage is especially prominent for Millennials with 41% of American Internet users aged between 18 and 29 using adblocking software.
When you activate influencers to share your video content on their social networks, it wont be blocked. Their friends will be much more likely to see it and click to watch the clip in its entirety.
3. Video is Expanding to More Social Networks
Recently, Facebook has grown to be one of the go-to sites for online video, stealing 40% of YouTube's audience. YouTube still dominates in terms of views – 4.1 million to Facebook's 2.8 million views. However, Facebook seems to be the platform for video sharing. For influence marketers, sharing is a much more important metric than a view.
4. Video is Engaging
If you want to engage consumers and relay information, video is an effective method. It's 4 times more engaging than static content and the information retained in 60 seconds of video is equivalent of 1.8 million words.
In a recent study, Usurv surveyed 1,000 adults and found that consumers are 39% more likely to share, 36% more likely to comment, and 56% more likely to like an online video than they are a text article.
After an influencer shares, likes, or comments on a video, 59% of people said they are more likely to watch it.
5. Video Affects Purchase Decisions
When consumers are exposed to both professional content and user-generated product video, brand engagement rises by 28%. No only are they more engaged, but 51.9% of marketing professionals worldwide cite video as the type of content with the best ROI.
If you want to drive sales, you should have influencers distribute branded video. 57% of consumers say that product videos make them more confident in purchase and less likely to return an item, up 52% from last year.
6. Video Evokes Emotion
Video can quickly make viewers feel a certain emotion. With a human touch, you can quickly gain consumers' trust, evoke curiosity, give them confidence, and amuse them.
Trust is important because with competition between brands trust can make a huge difference in who consumers turn to. When influencers share these types of videos, it will be even more effective because influencers' networks trust them.
If you break up your videos and put a teaser at the end of each one previewing the next video in the series, you can evoke curiosity and potentially get people to subscribe. You could also place a call-to-action to your website with more information the video doesn't have.
By having users share case study videos, you can give people confidence in your products or services. If you create amusing brand videos, people will share them.
The Wrap-Up
Online video is a powerhouse for online influence marketers. More and more videos are being uploaded, watched, and shared. They are great content for engaging your consumer and driving conversions. Identify your influencers and activate them to share video content today!